Sun and Sea in Cyprus
AKAMAS-PAPHOS
Coral Bay
Kato Paphos Municipal beach
Lara Beach
Latchi Beach
Petra-tou-Romiou /Aphrodite's Beach
Pissouri Beach
Polis Beach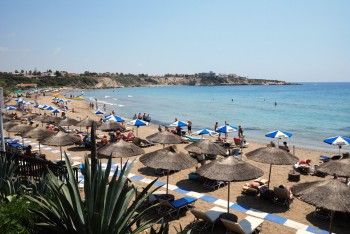 Coral Bay
One of the best sandy beaches of the region, it is located in Pegeia - Coral Bay, easily reached by car, motorbike, bicycle and bus. It is a small bay with golden sand rather shallow waters. It is a quite popular beach which is suitable for all ages, weather young or old. There are water sports such as windsurfing, Han gliding, banana and jet skis available for hire. At Coral Bay there are also two restaurant - cafes as well as sunbeds and umbrellas which are available there.
Kato Paphos Municipal beach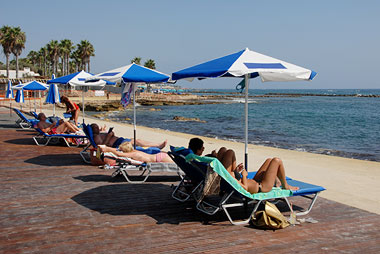 A favourite with the locals, Municipal Baths Beach is a sandy beach. It is located in the heart of the tourist area of Kato Paphos. Access to the beach is easy and there are signs with directions showing the way to the facilities. Water sports, sun bed and umbrella hire are available. There are restaurants and accommodation facilities nearby.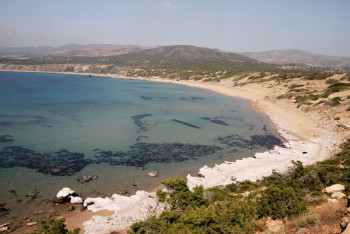 Lara Beach
Lara beach is located in the Akamas Peninsula. It is a beach which is deserted as it is a protected area. The only habitants are wild goats, birds and turtles. Due to the fact that the area is deserted, the beach and the trees are intact making it a small paradise. The sand is soft and golden, while the sea is crystal clear and clean. In order to get there you will need a four-wheel drive as it is an off-road journey.
Latchi Beach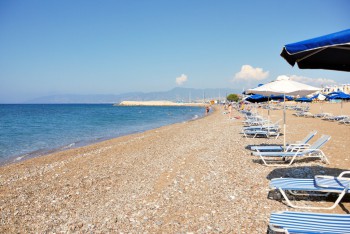 Latsi beach is located in Polis Chrysochous , which is about 45 minutes from Paphos. The beach is mostly small pebbles and some sand. There are many areas where you can stop at as the Latsi beach is quite a long strip. At some points there are restaurants, cafes as well as water sports sunbeds and umbrellas for hire. There are also lifeguards at various points which are popular and crowded.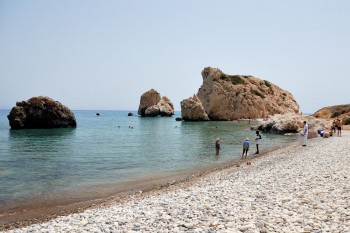 Petra-tou-Romiou /Aphrodite's Beach
This beach is one of the most famous beaches in Cyprus.It is on the road between Paphos and Limassol. According to legend this is where the goddess Aphrodite rose from the waves and was born. Its name however "Petra tou Romiou" came from the legend "Digenis Akritas" who was an ancient warrior. Legend says that he threw a large rock into the water to save the island from the Sarakinians who wanted to take over. That is where it landed and that is how it took its name. The beach is extremely beautiful with crystal clear waters as it is at open sea.
Pissouri Beach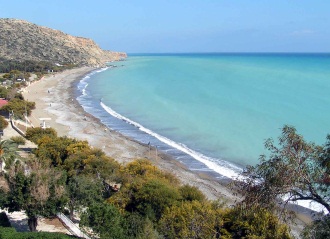 Pissouri Beach is noted for its fine golden sand, multicoloured small pebbles, moderate waves and crystal clear azure waters. Beach is calm and peaceful. Its incomparable beauty, combine with the light and the white colour of the cliffs to serve as a magnet for visitors. Sports fans can water ski, windsurf, sail and paraglide. Pissouri Beach is proud of its free facilities. A nearby public parking place offers easy access to the beach. Situated nearby are two beach hotels, several restaurants, bars and pizza places as well as a variety of shops.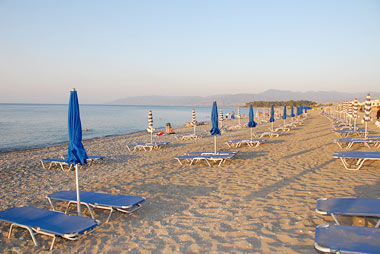 Polis Beach
The Municipal Beach is located in Polis Chrysochous. It is a sandy beach mixed with pebbles and is easily reached by car, motorbike and bus. Water sports, sun bed and umbrella hire are available on site. There are accommodation facilities nearby while lifeguards are on duty with lifesaving equipment.
LIMASSOL
Curium Beach
Dassoudi Beach
Governor's Beach
Lady's Mile
Pascuchi area Beach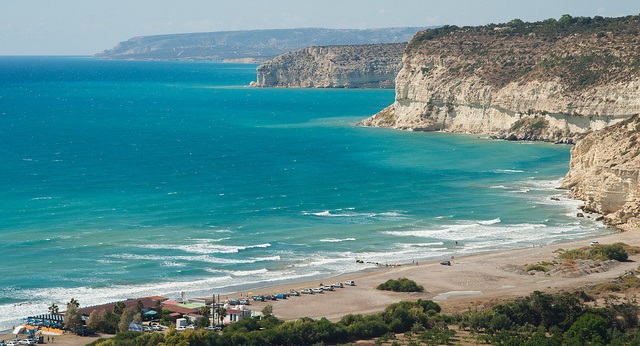 Curium Beach
The Kourion is an area which has a deep history from the ancient Greek and Roman ages. It is well known for the Kourion Amphitheatre. Kourion beach is considered as a lovely beach of grey sand and small pebbles, with waves soaking the sand. Windsurfers are interested as the area is windy as well as other wind-dependent sportspeople. Kourion beach is reachable by public transport, although the locals like to drive to the beach with their cars. There is no shade, apart from the escape offered by several tavernas.

Dassoudi Beach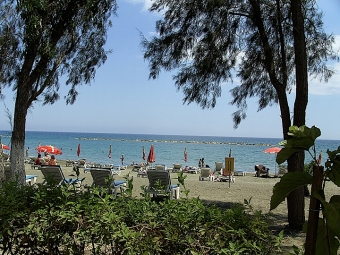 Located in the heart of Limassol, Dasoudi beach is surrounded by tall trees which give you the impression that you are out of the city. A lot of facilities can be found at this beach including restaurant, playground, beach volley and an Olympic size swimming pool. This beach is very well organised, with clear waters and fine sand, perfect for families with kids of all ages.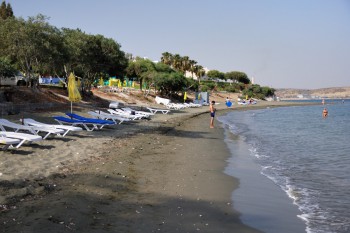 Governor's Beach
Governor's beach is located 20 kilometers east of Limassol. With shallow clear waters, fine sand and amazing tiny bays, this beach is perfect for families. Governor's beach is ideal for snorkelling and fishing. Accommodation facilities, restaurants and bars are available nearby.
Lady's Mile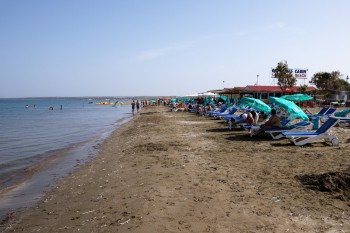 Lady's Mile beach is situated on the west side of Limassol. It starts from the new port of Limassol and it stretches for 5 kilometers perfect for people who are looking for a quite spot. The waters are very shallow and clear at this beach.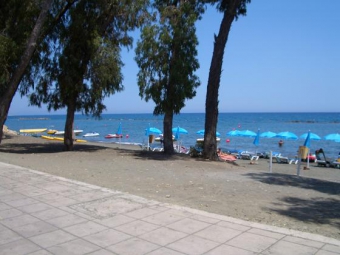 Pascuchi area Beach
Small sandy beach is located in the tourist area of Limassol near cafe Paskuchi. There are sun beds, umbrellas, water sports. With shallow clear waters, fine sand and amazing tiny bays, this beach is perfect for families with children.
LARNACA
Dhekelia Beach
Faros Beach
McKenzie Beach
Phinikoudes Beach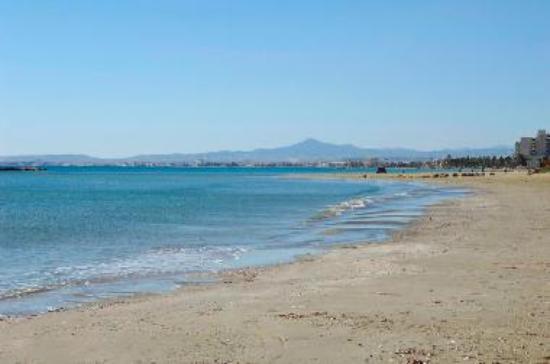 Dhekelia Beach
Dhekelia Beach is the largest beach of Larnaca and goes on for miles.Since Dhekelia Beach is so long, the facilities on offer do tend to vary greatly and a number of hotels permit access to their onsite amenities for just a nominal charge. There are also a range of water sports on offer as well as other beach activities such as volleyball. The variety of restaurants along the Dhekelia road that runs the length of the beach is massive, from designer fusion lounges to tavernas, and even Pizza Hut, you are never far away from good food.
Faros Beach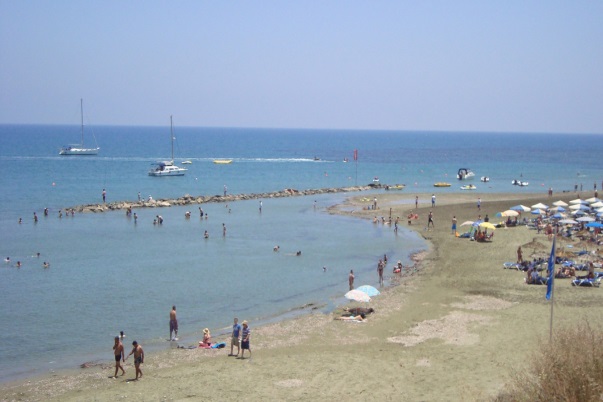 Faros is a sandy beach with an excellent view situated at the Pervolia. Access to the beach is easy and well sign-posted. The quality of the water is tested frequently and the beach front is cleaned every day. Sun bed and umbrella hire are available. There is also a beach volleyball court. The beach is accessible by bus, car, motorbike and bicycle.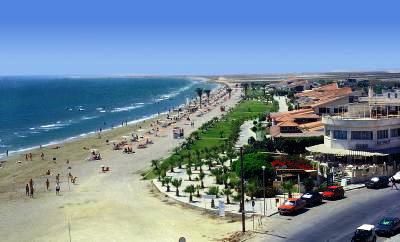 McKenzie Beach
Mckenzie beach is one of the most beautiful beaches of larnaca. It is located on the south side of Larnaca and its well equipped with all the facilities like waters ports, scuba diving and volley courts. There are many restaurants famous for their Cypriot cuisine and fresh fish. Many nice bars are also along the beach for unforgettable fun.
Phinikoudes Beach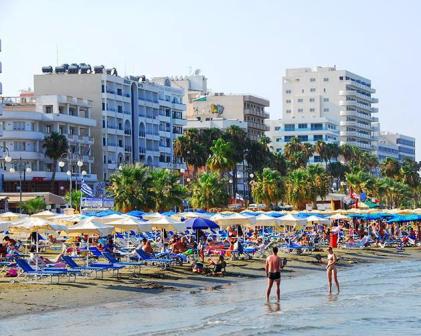 Phinikoudes is also called (Foinikoudes) Beach is considered as one of the most famous beaches in south Cyprus. The beach is around half a kilometre long and has fine, grey sand that kids love to play in. The sea is usually calm enough for youngsters to paddle and swim with adult supervision. Phinikoudes Beach is the main beach in Larnaca. There are many facilities at this beach as it is in the centre of the town. To begin with there are many water sports to try and sunbeds and umbrellas available to rent for a relaxing day. Apart from these there are shops and restaurants to eat or drink at. There is also a small fun park with an arcade.
AYIA NAPA
Adams Beach

Ayia Thekla Beach
Macronissos Beach
Nissi Beach
Sandy Bay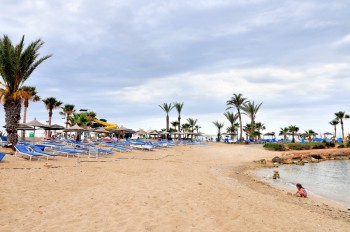 Adams Beach
A long stretch of powdery golden sand, Adams Beach is within easy walking range of Ayia Napa. It is bordered by Nissi Bay, a little and pretty offshoot of the Mediterranean, in Cyprus. This is a good snorkelling spot. The Greek-style food of southern Cyprus is excellent and widely available in local taverns. Nearby - great water sports. Greenery abounds at beach.
Ayia Thekla Beach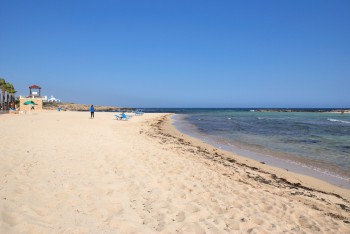 Located three kilometers west of the centre of Agia Napa, Agia Thekla is a small beach named after a tiny old church situated nearby. Ayia Thekla beach is a non so crowded beach where sun, golden sand and clear water gives you the perfect relaxation at the beach. Seas are calm. Beach and water sports facilities are also available while a convenience store is located close by. The beach is within walking distance from the main road leading to Agia Napa.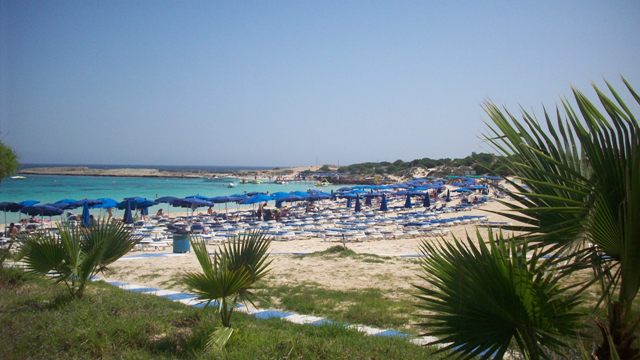 Macronissos Beach
Makronissos beach is comprised by three small bays and forms a large beach very popular in Cyprus. There is white sand which makes the beach suitable for various water sports such as water skiing, parascending, paddle boating and diving. The clear and shallow water makes the beach suitable for all ages.
Nissi Beach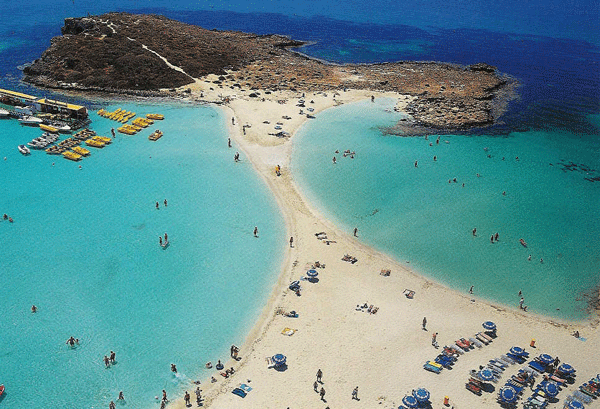 Nissi beach is a famous sandy beach in the province of Agia Napa Cyprus. The spectacular thing about this beach is that is that the waters are very shallow therefore the water will never go past your waist. There are many water sports which people can use such as windsurfing and pedal boating as well as bungee jumping. Nissi beach is a very popular destination for the younger crowds as it is used by music programs to host beach parties during the summer. Beach and foam parties are on every week with loud music and famous DJ's. Nissi beach is the perfect place for people who love to party during the summer.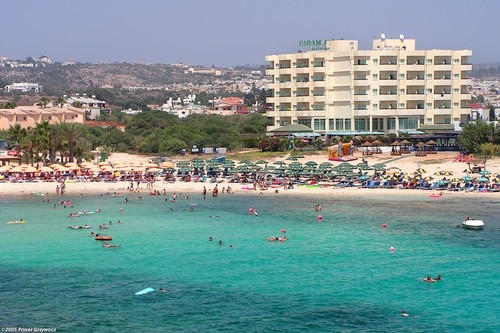 Sandy Bay
Sandy bay is located in Agia Napa near Nissi beach. It has white sands and it is popular with families as it is less crowded than other surrounding beaches. Having an oval narrow shape, this unique beach is fully protected from winds. Its shallow clear water and fine sand provide the perfect conditions for children of all ages. There are water sports available and there is a restaurant near there for drinks and snacks.
PROTARAS

Ayia Triada Beach
Cape Greko Bay
Coral Bay
Cavo Maris Beach
Fireman's Beach
Fig Tree Bay
Kapparis Beach
Konnos Beach
Malama Beach
Pernera Bay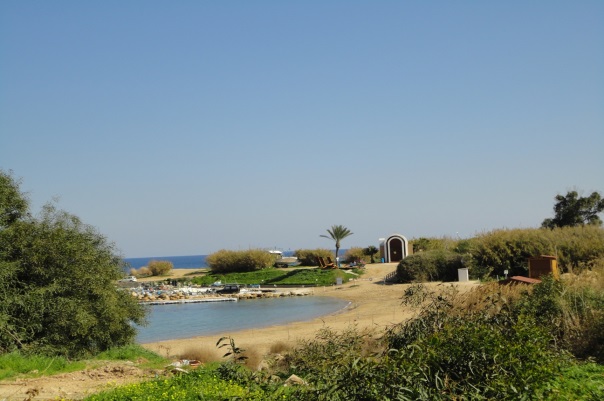 Ayia Triada Beach
Ayia Triada is a visually appealing beach, with a fishing harbour and tiny chapel. It is a sandy beach, with sun loungers provided for the general public. Again, it is tranquil and safe enough for kids with the shallow waters and relatively small beach area (compared to the main beaches). There are walking trails along the coast if you are feeling active and want to soak up the views of the beautiful harbour.
Cape Greko Bay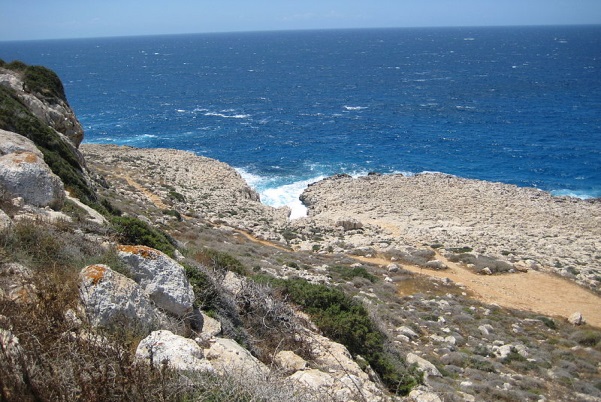 Cape Greko is frequently visited by many tourists for its natural beauty. It is a protected nature park. From the high points on the cliff that rests at the cape one can view amazing sights out to sea. According to local legend it is also the home of the Ayia Napa sea monster. Cape Greko offers visitors the chance to enjoy numerous activities as well as scuba diving. Some of the activities you might be interested in are swimming, fishing, rowing, riding and cycling. You will also find the remains of an old Venetian lighthouse which is popular amongst bird-watchers.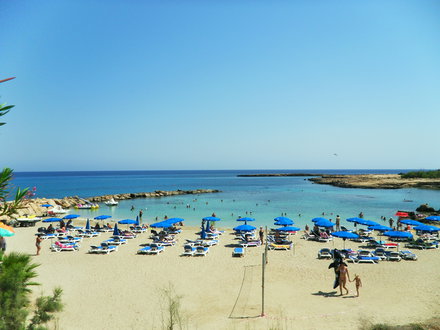 Cavo Maris Beach
The beautiful sandy beach has clear azure water and golden sand. You'll find a copious amount of sun loungers and parasols. There are various types of water sports. It is the ideal place for families with children.
Fireman's Beach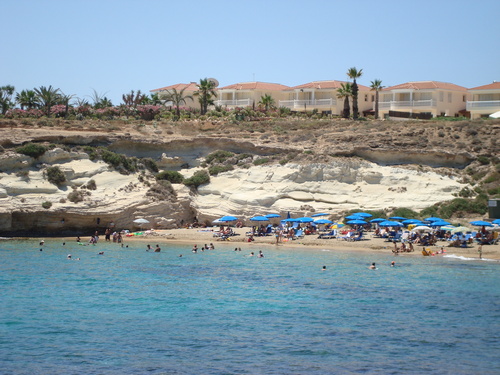 Fireman's Beach is a lovely, sandy cove beach and has some really breathtaking views. You can even see Famagusta Ghost Town on a clear day, if you walk round the bay. The fireman's station is located at the top of the bay and fireman can often be seen training on the beach in the late afternoon and early morning. It's perfect for families as the beach is compact and secluded with shallow waters. You'll find a copious amount of sunloungers and umbrellas at your disposal and a Kiosk at the top of the bay.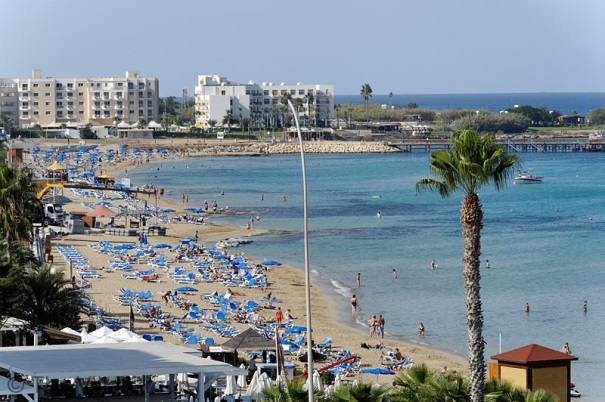 Fig Tree Bay
Fig Tree bay is probably the most popular beach of Cyprus. It is among the busiest and most organized beaches of the island. It's crystal clear blue warm water and soft golden sand offer a nice environment for adults and kids. Perfect spot for snorkelers and water sports enthusiasts. Cafes, taverns, and beach volleys are available, while many hotels and apartments near the beach are available for accommodation.
Kapparis Beach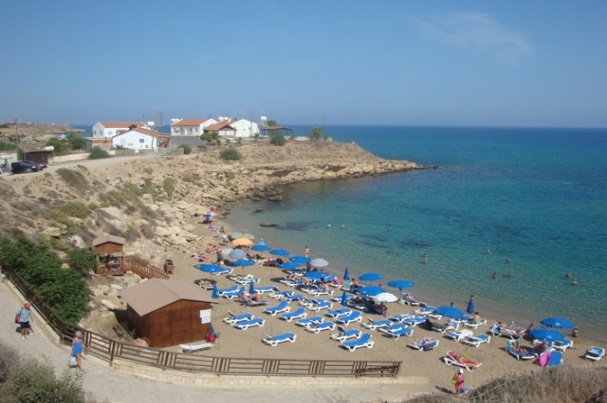 Kapparis beach is located in the Famagusta area of Cyprus and is a quiet and isolated beach. It is the beach which is the most closest to the Turkish occupied area. There are sunbeds and umbrellas for hire available as well as a van for drinks and snacks.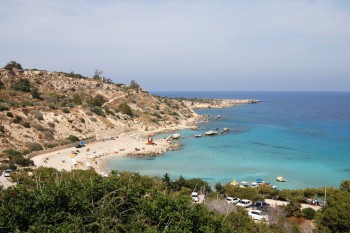 Konnos Beach
This lovely secluded beach is 2km north of Cavo Greko with perfect swimming conditions especially for children. It is hidden at the foothills of Konnos Bay and offers magnificient views, golden sands and cristal clear waters. Many different types of watersports can be found there as well. Konnos beach is very popular with the locals.
Malama Beach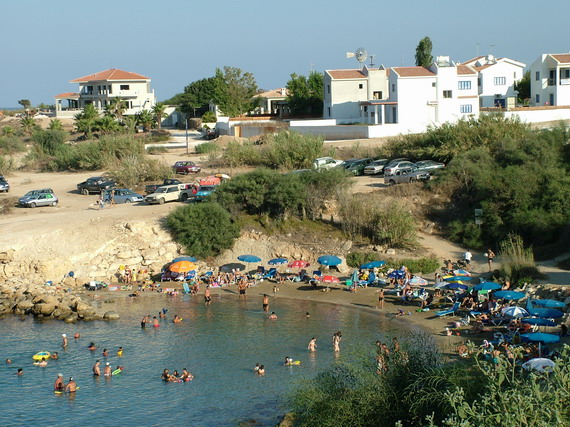 If you're looking for peace and quiet, then Malama is a perfect choice. It's a sandy beach which is tranquil, in comparison to other main beaches. A real local's choice with a water sports area for the adventurous type. You have a sea view restaurant/ cafe above the beach if you require breakfast, lunch or dinner. It would be ideal for families as the water is shallow enough for young children and is small enough to keep an eye on them.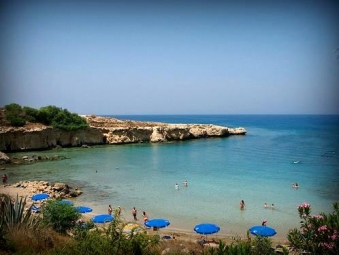 Pernera Bay
Situated 2km northwest of Protaras, Pernera beach offers perfect swimming conditions especially for children. Its calm warm water and soft golden sand promises a magnificent day at the beach. Offers a range of water sports and boat rentals. It also has its own dive centre, which offers everything from dives for beginners. Whilst diving here you will encounter reefs, caves and no end of fascinating marine life including parrotfish, rays, sea bass, groupers and eels. Many taverns, restaurants, pubs and souvenir shops can be found nearby.